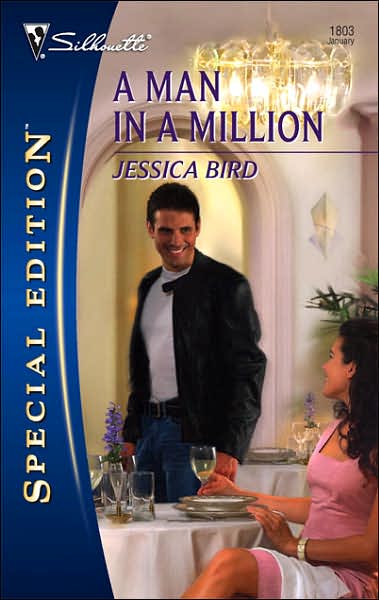 Book description:
As far as bad boy Spike Moriarty was concerned, Madeline Maguire defined female perfection. When they'd met, she'd walked up as if she wasn't the most gorgeous thing on the planet and asked to see his tattoos. He-a tough guy who'd make grown men run-had just about passed out. But their connection was definitely one-way-it had to be. Because he could never be the man in a million she was looking for, not with the things he'd done and seen. So for as long as she'd let him, he'd give her whatever she wanted. He'd worry about her walking away when it happened.
I wasn't planning on reading this book, but I am oh-so glad that I did. Reading this book, it shows what I already knew. Jessica Bird aka J.R. Ward is nothing special. She hit the genre with the BDB at exactly the right time and got lucky. Yes, she got lucky. I've read Harlequin's by Susan Mallery, Roxanne St. Claire, Kathryn Shay, Marilyn Pappano, and Nalini Singh that are as good, if not better than Man in a Million. Don't get me wrong, I'll still read her JRW books, I just won't run out and hunt down all of Jessica Bird's backlist.
Okay, I know this is a Harlequin. So we'll definitely have the BIG MISUNDERSTANDING. Dude, this whole freakin' book was a BIG MISUNDERSTANDING. I'm not exaggerating either. If you don't believe me, read it.
Madeline "Mad" Maguire is a very insecure woman. Over six feet tall with a very athletic frame, she has had bad luck with men in general. Not to mention the two men she did get serious about ended up sleeping w/ her half sister. So even though she thinks Spike Moriarty (which I read as Mortuary every time) defines male hotness, she won't do anything about it. She's content to coast along with her life as it is. She also knows that someone like Spike would never want someone like her.
Meanwhile Spike knows that Mad is way out of his league. She's gorgeous and wealthy, she'll never give him a chance. Not only is he unrefined, he's also an ex-con. After a horrible experience telling a woman about his past, Spike doesn't want to put himself or another woman through that again. So he admires Mad from afar, wishing for what he can never have.
Are we seeing a pattern here?
Spike does Mad a favor by being her "guest" at the family home. Acting as a buffer between Mad and her barracuda of a brother, Spike begins to see Mad in a different light. Of course in between the BIG MISUNDERSTANDING, there are little misunderstandings. Such as Mad asking Spike why he's attracted to her. Spike thinks she wants a list of her attributes because she has to know how hot she is. So he is disappointed because he doesn't realize how shallow she was.
Then there's the coup de grâce, when Mad walks in and misinterprets a conversation between Spike and her half-sister Amelia. You'll be able to see this misunderstanding coming a mile away. It doesn't end there, though. Mad takes off like a bat out of hell. Spike is totally oblivious to the fact that Mad even saw him and Amelia talking. Mad's brother, Richard, takes full advantage of the situation telling Spike that Mad left b/c Richard told her about his past. Spike leaves with his tail between his legs, but understands why she left.
So Spike and Mad are both licking their wounds, but for different reasons. It really is quite humorous. When Spike does find out the truth, he realizes if Mad doesn't trust him about Amelia, she'll never be able to understand and accept that fact that he did time for manslaughter. Uh-huh.
And on and on it went. I was glad that this book ended because it was really getting tedious toward the end. Not to mention that the characters were far from brilliant. Spike was a good hero, in a bad-boy-turned-good sort of way. Madeline was a total wimp of a heroine. Of course there was a reason for that, but whatever. She just didn't rock my socks.
2.5 out of 5 stars.