Which Psy-Changeling Hero Is For You?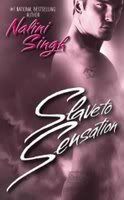 Your Psy/Changeling Hero: Lucas

Tough, dangerous and highly intelligent, the alpha of the DarkRiver leopard pack is a man who will demand everything from his mate. But he will give the same in return. And he will never let go.Find out more about Lucas and the series at www.nalinisingh.com
Take this quiz!

Go take this quiz and post it on your blog. Post on Nalini's blog and you're entered in her CBI contest!