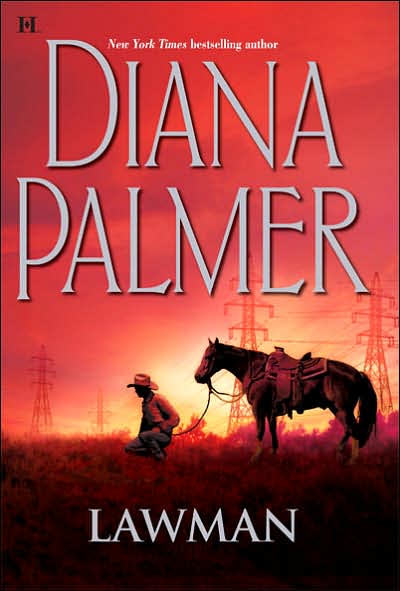 From the back cover:
When San Antonio FBI agent Garon Grier buys a ranch in Jacobsville, Texas, the strong, silent loner is hoping to mend some broken family fences. He's not looking for love when he finds an unexpected, unwanted attraction to the girl next door, a shy, lovely woman who believes some secrets are best kept hidden. But the truth will prove just as dangerous when Garon tackles the most difficult case of his career, hunting an escaped convict, a child predator whose former victims are all dead. All except one.

Grace Carver grew up in this quiet Texas town. She works as a cook at the local café and nurtures a spectacular garden in the home she shares with her elderly grandmother. She remains unmarried and untouched because of a past darkened by tragedy. Now, at only twenty-five, she's accepted loneliness as a way of life. That is, until Garon.

But only when fear and uncertainty collide in reckless heartbreak does Garon fully realize what he's found with Grace—and what he may have lost. Because his hunt for a killer has lead him to the last person on earth he would ever have expected to be the one who had escaped death at the hands of a madman. And now a desperate lawman and a proud woman must decide if secrets will come between them forever . . . or free them to love.


Yes, I'm sure many of you are raising your eyebrows or wondering WTF I was thinking. I can't help it. Diana Palmer is like a trainwreck for me. In my defense, I got this book at the library. I don't think I'd be able to live with myself if I bought another hardcover of hers. Yes, I admit it. Years ago, I bought a hardcover. Never again.

Grace Carver is your usual Palmer heroine. She's innocent and sweet. Not to mention young. But not as young as some of her heroines. 24. Which is better than 20. Grace lives with her grandmother, who ends up dying of heart failure, leaving Grace all alone in the world. You see, Grace lost her parents when she was young. Her dad ran off and left her mom for another woman. Her mom committed suicide. Grace's grandma was all she had left. It didn't matter that Grace worked to the bone to keep your grandma happy. Or that granny was a raving bitch. She had a reason for it, of course. However, because the reader doesn't know that reason until toward the end of the book, Grace's devotion to the hag seemed pathetic.

Garon is your usual Palmer hero. A total asshole. Not as bad as some of the heroes, which is a relief, but still. Of course Garon finds himself physically attracted to Grace, but a tragedy in his past makes him leery about starting any new relationship. That doesn't stop him from hopping into the sack w/ Grace, though. Even though he can see stars in her eyes, he still does the deed. Then he dumps her. In total jerk fashion, he just stops coming around. When he does see her around town, he accuses Grace of stalking him. Yes, ladies and gentlemen, in a town of 2,000 people, Grace is stalking Garon. It was laughable that an FBI Agent would actually come to the conclusion that frumpy, spinster Grace would stalk him. Ha!

Eventually Garon finds out that Grace is tied into the case he's working on. Tracking down a serial killer who kidnaps young girls out of their beds and then kills them w/ red ribbon, Garon has no idea that Grace was his first victim. When he finds out, he realizes exactly how he's wronged Grace. How he comes to this conclusion, I'm still not quite sure.

Then Grace finds out she's pregnant. Aren't you shocked? They get married. Grace is hiding a secret that she doesn't want Garon to know about. See, Garon's first wife died of cancer when she was five months pregnant w/ their baby. So she doesn't want him to worry about her or the baby. Garon's serial killer case comes to a head and Grace goes into labor all on the same day. Grace has a bad heart, which could kill her and the baby. If they take the baby right away, Grace could die. It's a real clusterfuck, people.

All and all, it's exactly what I expect out of a Palmer novel.