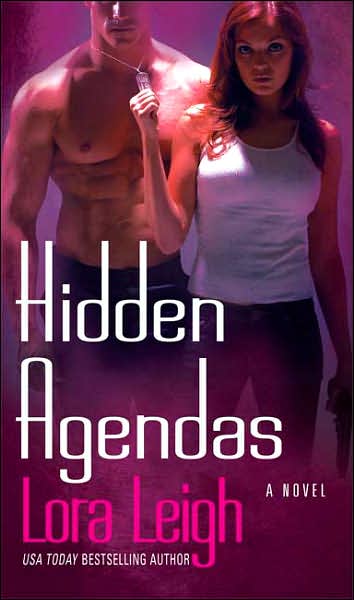 From the back cover:
SAVING LIVES IS HIS MISSION.
Tough-as-nails Navy SEAL Kell Kreiger is the best there is at searching, rescuing, and taking no prisoners…yet even the rush of ever-more dangerous missions isn't enough to satisfy him. Haunted by a tortured past, Kell seeks distraction in a secret world of dark intimacies. But when Emily Stanton, the one ray of light in Kell's shadowy existence, is pursued by a ruthless drug lord, the rules of the game suddenly change—and Kell will have to go deeper undercover than he ever imagined...
SAVING HER IS HIS PASSION.
Emily has loved Kell ever since her father, a prominent politician, rescued him from a brutal life on the streets. They were kids then, too young to act on what was growing between them…but now that Emily is ready, the handsome, headstrong SEAL has decided he's no good for her. Ever since he rescued her from Diego Fuentes' compound, Kell's only duty has been to keep Emily safe. But Fuentes isn't finished with Emily—or Kell. And to protect Emily, Kell has no choice but to lay himself—body, soul, and secrets—bare…and fight against evil with all his heart.
Okay, so as I was reading Hidden Agendas, I kept checking to make sure that the author really was Lora Leigh. There were no menages. Not even a reference to one. No BDSM. Only traditional sex. Not that this is a bad thing, but I've gotten so used to this from her that I was a little surprised.
Kell Kreiger is a hard ass mother-f-er. After getting his then-girlfriend pregnant at 17, Kell married her against his family's wishes. As sole heir to a prominant New Orleans family fortune, Kell did not meet expectations by marrying the girl he knocked up. Dude, but that was annoying. When he was cast out, Kell did what he could to support his new family. To save money for the impending arrival of his son, Kell started doing informant work for the NOPD. When he ended up having to testify against a well-known drug lord, he was warned that his wife would die if he testified. So Kell hid her in the swamp at an old family cabin. His mom, who saw him take the keys actually gave the location up. His wife and unborn baby were brutally murdered. So he is tortured. With good reason, too. After that, he left New Orleans and hasn't been back.
Emily Stanton hasn't been the same since she was kidnapped by Diego Fuentes. Nor has her father. A powerful man in his own right, Senator Stanton insists on Emily having bodyguards. He also plays matchmaker, which is a little strange. Sending man after man to his daughter hoping that she'll fall into bed with him seemed a little creepy to me. Emily is onto him, though, and wants nothing to do with it. She ends up running them off eventually. While that is not exactly her plan, she doesn't complain. This part of her character annoyed me. She had no backbone when it came to her father. Which did make sense in a way. The one time she refused a bodyguard, she got kidnapped. Aside from that, it was just little comments here and there that were made that she just took.
When the news reaches them that Fuentes will once again go after Emily, Kell steps in. For apperances, he insists on pretending to be her lover. Why? 'Cuz if Fuentes thinks she has no bodyguard, he'll try to snatch her not knowing that there is virtually a whole SEAL team in place to protect her. The team doesn't know a few things, though. They don't know that they have Fuentes' own son in their midst. We don't find out who he is until virtually the last page, but ho-boy. Shit will hit the fan in the next book.
So Emily and Kell decide to start playing house for real. One thing that is refreshing in Leigh's book is that the hero doesn't fight the attraction. It's not "I'll never fall in love again. I'll just f her and leave her. I'm not good enough for her". With Kell, he fully admits that he doesn't think he's good enough for her and he doesn't fucking care. He very craftily decides that while Emily will think he's pretending to be in relationship with her, he won't be pretending. But she'll still think he is pretending, even though he's serious.
Of course Emily still gets nabbed by the bad guy. Did you really doubt she would? Kell freaks out, of course. Kell finds her, of course. They also find one of their men that has been held captive for over 17 months. That's another story, for another time. That guy is so effed up, I'm not sure if he'll even get his own book.
There are several new characters introduced and several old characters that are re-introduced. Romantic suspense fans should enjoy this one.
3.5 out of 5 stars.