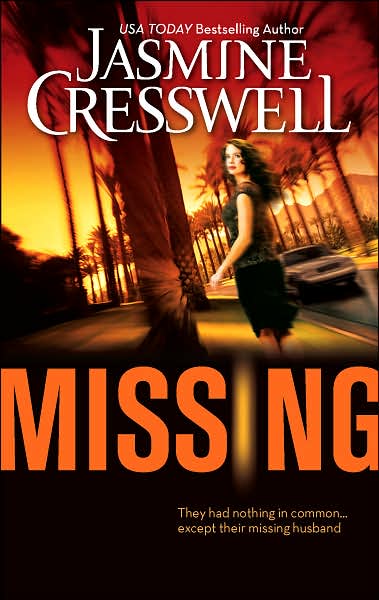 Book description:
For twenty-five years, multimillionaire businessman Ron Raven played the loving husband and father— to two very different households. But when Ron disappears, his deception is revealed. Now both families are left with questions, while the man who holds the answers is...MISSING.
Megan Raven is desperate to save her mother's Wyoming ranch, used as collateral on a three-million-dollar loan—money that disappeared with Ron. Worse, the loan is being called in by Georgia bank manager Adam Fairfax—brother to Ron's other wife.
Brought together by their families' turmoil, Megan and Adam head south of the border in search of the missing millions. But what they find is a whole new web of lies, secrecy and greed.
I've been a long-time fan of Jasmine Cresswell. When I first read
The Daughter
, I was a fan for life. That book is in my Top 10 favorite books of all time. I think it's been about 2 years since Cresswell has released a book. Her website said that she was working on a trilogy that was going to be released consecutively, starting in September. It just seemed to take for-evah.
A bigamy plot is a hot button for me. I've only enjoyed one book with this storyline and I think it was because it showed a POV from the bigamist himself. While I still abhorred what he did, it was heart breaking b/c of how many people were hurt, including the bigamist. Mostly I just wonder how the freaking freak an author actually tries to convince the reader that both wives had no idea that the husband was getting it on with someone else, let alone have a separate life all together. In this case, one of the wives finally admits to herself that she had an idea he was having an affair. Honestly, what woman would actually consider that their husband married another woman? Anyway, see how I get going when I get on this topic? LOL
Onward...
When police found Ron Raven missing from his Miami hotel room, they were relatively certain that he met with foul play. If the broken furniture, cut up matress, and missing man didn't clue them in, the blood did. When they went to notify his family, they found something interesting. Two wallets, two Blackberries, two cell phones. This is a little off topic, but who carries a Blackberry AND a cell phone? Anyway, the police sent info to both Wyoming and Illinois, the states in which Ron had a drivers license. After that, the shiznit hit the fan. Both wives (and their respective children) were horrified to find out that their loving, near perfect husband and father was not only dead, but a bigamist as well. Not to mention that he had been married to both of them for over 20 years. Honestly. Are you freaking kidding me?
To make matters worse, good 'ol Ron borrowed 3 million dollars against his first (and legal) wife's ranch for a "business" venture. As if Ron wasn't fucked up enough, he borrowed it from the bank that his second wife's brother owns. Ron enjoyed screwing with people, even if only he knew what he was doing. So he really enjoyed pulling one over on his brother-in-law. When he was presumed dead, his brother-in-law, Adam Fairfax, decided to call in the loan. He wanted to stick one to Ron's first family because it's their fault that their husband/dad was a cheating loser.
Anyway, Megan Raven (daughter of his first wife) takes her plea to Adam to give her a chance to find the money. The Wyoming ranch has been in her mother's family for years and it would devestate her to lose it, especially now. She eventually talks him into working with him.
Chaos ensues.
If it's not bad enough that they owe the money to Ron's "other" family, Megan and Adam are instantly attracted to each other. Of course they both know that nothing can ever come of it, but true love will not be denied. Together they travel to Mexico and after the missing money.
As the 1st of the trilogy, the ending is kind of murky. With assassins after them, a murderous uncle, and their distrust and lust for each other, it is an action packed book. This book was really good as I was reading it and I found that I couldn't put it down. Of course, I was in an airport at the time, so there was nothing else I could have done. It was only as I was starting the review that I realized how laughable some of the book was. Maybe I'm just cynical today.
3 out of 5 stars.